Give your toddler healthy choices as they explore new foods and flavors.
Toddlers are learning to feed themselves and to eat new foods during this important time of growth and development. 
Young children have small stomachs and are learning what foods they like and dislike. So, make every bite count!
Image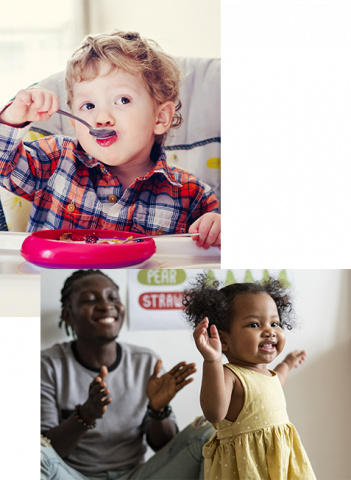 Picky Eating
Some "picky eating" behaviors are normal for toddlers as they explore new foods and learn to talk about their needs and likes. Try these tips to help them during this time:
Your child may not want to try new foods. Try serving a new food in the same meal with food they like and eat. It may take a child up to 8 to 10 tries to accept a new food.
Your child may not eat the exact amounts suggested every day. Try to balance the amounts over a few days or a week.
Offer foods from all five food groups each day. Help your child choose from many types of foods.
Serve foods in small portions at meal and snack times.
Toddlers can fill up on drinks. Offer water if your child is thirsty in between meals.
Let your child help make meals. Even young children can rinse fruits and vegetables, tear lettuce, or stir ingredients. Children get excited about tasting foods when they have been involved in the prep.
MyPlate Tips on Alexa
Get MyPlate nutrition information straight to your home on your Amazon Alexa smart speaker, or on your phone or tablet via the free Amazon Alexa app. For more information, visit our MyPlate Alexa page.
Below are some of the many tips available for parents and caregivers on what and how to feed your toddler. And just like the MyPlate.gov website and the Start Simple with MyPlate app, all of the information provided by MyPlate on Alexa is based on the Dietary Guidelines for Americans, 2020-2025.
Added Sugars
Did you know that toddlers should avoid foods and beverages with added sugars? Little tummies don't have a lot of room, and every bite they eat should be packed with the nutrients their body needs. Read the label on the back of food packages to make sure there are no added sugars. Next time you are at the store, for example, grab a tub of plain yogurt with no added sugars. For extra flavor and extra nutrients, you can add in a pureed fruit.
Introducing Foods - Safety
Grapes, cherries, and cherry tomatoes can be great options for your toddler but they must be cut and prepared properly to prevent choking. Before offering any foods that are small and round, slice them into long thin pieces and, if needed, remove pits or large seeds from the inside of fruits.
Grains
When it comes to feeding your toddler grains, like breads and crackers, look for whole grain options by searching the ingredient list for words like "whole wheat flour" or "whole grain." Most toddlers (and adults, too!) don't get enough whole grains in their diet.
Healthy Shifts - Vegetables
Provide your toddler foods that are full of nutrients. Start simple by serving your baby roasted, steamed or mashed vegetables instead of fried vegetables or vegetable chips. For a vegetable idea, try cut and boiled green beans.
Allergenic Foods
Did you know that there is no need to wait to introduce your little one to eggs, seafood, soy, nut products, cow's milk, cheeses or yogurts? In fact, science shows that offering your baby these foods now could prevent an allergy later in life. Talk to your doctor if you have questions.
Vegetarian Diet
If your toddler is following a vegetarian diet, be sure to talk to your healthcare provider to make sure your little one is getting enough iron and vitamin B12.
Iron
Iron is an important nutrient that carries oxygen to your baby's cells. Keep your baby growing well by including iron-rich foods in their diet, like meat, seafood, beans, and spinach.
Responsive Feeding
It is important to recognize when your toddler is hungry and when they are full. Some signs your child might be hungry are they get excited or open their mouth when they are offered food. Your child might even use hand motions or certain sounds when they are hungry.
Vitamin D
Did you know that many kids may need to continue to get a vitamin D supplement even after they turn one? Check with your pediatrician to see what is right for your toddler.
Unpasteurized Foods
Unpasteurized foods are not safe for your little one as some unpasteurized products may contain harmful bacteria. Look for the word "pasteurized" on the food label before feeding your baby yogurt, milk, cheese, or juice. Pasteurized foods are the safest to feed your little one.
Beverages
Did you know that "toddler milks" and "toddler drinks" come with a lot of sugar? Experts recommend avoiding these and focusing on giving your baby healthy foods and beverages throughout the day. After your baby's first birthday, infant formula is no longer recommended. Instead, offer cow's milk, water, and if available, breastmilk.
Brain Development
Your baby's brain is going through a big growth spurt. Feed your little one seafood to help boost their mind. Try cooked crab, salmon, or canned shrimp. Offer your baby one ounce of fish once or twice a week. One ounce is about the size of three dice.
Healthy Shifts - Fruits
Make healthy shifts to empower your toddler to eat foods full of nutrients. Instead of offering sugary fruit bars, give your toddler fresh, canned or frozen fruit with no added sugar to snack on.
Introducing Foods - Safety
Nut butters like peanut butter are a great option to offer your toddler. To prevent choking, be sure to spread it thinly over a cracker or toast. Avoid offering a spoonful as your child may not be able to safely swallow that amount.
Repeated Exposure
Did you know that it may take 8 to 10 times before your child likes a new food? So, for example, offering your little one fruits and vegetables repeatedly will increase the likelihood that they will eventually like them. So, keep up the good work and one day it will pay off!
Variety - Foods, Flavor, Texture
It is important to offer your toddler a variety of foods from all of the five food groups -- fruits, vegetables, grains, protein foods, and dairy foods. Offer healthy foods and a variety of flavors and textures. You can try adding the same spices and seasonings that the rest of the family enjoys. Research indicates children may have to try foods many times before they like it.
Healthy Eating
Did you know that nearly 90% of toddlers don't eat enough vegetables? Try to offer a variety of colorful vegetables, like broccoli, spinach, sweet potatoes, black beans, lentils, peas, and cauliflower to your little one to help them grow big and strong.